Biffy Clyro – Only Revolutions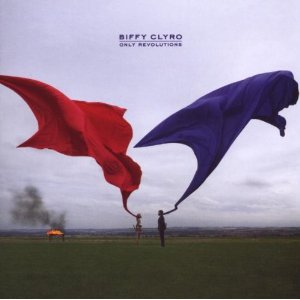 Amazon Review
Only Revolutions, the fifth long-player from Biffy Clyro, is a far cry from this Ayr trio's earlier, reliably embittered emissions. Long gone is the abrasive post-grunge that characterised albums like 2002's The Vertigo Of Bliss, replaced by polished production, uplifting melodies and a grand, orchestral palette. This doesn't meant Biffy have succumbed to the sort of blanding out that afflicts so many bands that clean up their act, though–indeed, in many ways they've become a more complex, idiosyncratic musical force, touting big anthems laced with creative eccentricity. The likes of "The Golden Rule" and "Born On A Horse" take their cue from Muse, fitting up songs with progressive twists and turns, not to mention some curiously elliptical wordplay. "I pronounce it aluminium/'Cause there's an I next to the U and M", spits Simon Neil on the latter, over an offbeat keyboard groove. Elsewhere, "The Golden Rule" hitches hectic riffage and gang vocals to an unashamedly epic symphonic outro, while "Shock Shock" channels relationship angst into something cosmically terrifying: "You scratch and you scratch 'til your face comes away, replaced by a hole or a vortex", sings Neil, over an bracing barrage of guitars. –Louis Pattison – click here to read original post.
My Little Empire Review
Biffy Clyro Only revolution has been nominated for a mercury music prize. This is a great rock album form this Scottish band. This is a great follow up to the 2007 Puzzle. There are great rifts all the way through this album and some great lyrics too. In God and Satan for example "I talk to God as much as I talk to Satan 'cause I want to hear both sides". This album also sees the release of "Mountains" which has not been on an album even though it was released in late 2008/2009. Biffy Clyro has a great chance of winning the mercury music prize. Good luck to them.
Stand Out Tracks:
Mountains
Bubbles
God & Satan
The Captain