Daft Punk – Tron Legacy OST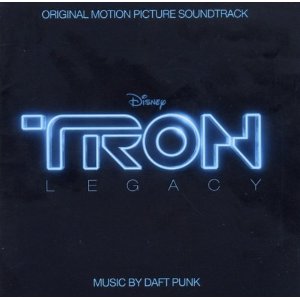 Amazon Review
The futuristic and mysterious dance masters Daft Punk appear to be the perfect group to compose the soundtrack to Tron: Legacy. The original film is fondly remembered by many despite its failure at the box office. Its musical score was composed by legendary composer Wendy Carlos, responsible for synthesizer classics such as Switched-On Bach and the soundtracks to A Clockwork Orange and The Shining. With Tron: Legacy Daft Punk have updated Carlos' original musical vision by delivering a sophisticated integration of acoustic and electronic instrumentation.
The opening Overture is a majestic orchestral affair that builds to a finale of crashing cymbals and thunderous timpani before fading gradually into silence. The Grid features Jeff Bridges setting the narrative scene in characteristically rich, solemn tones. The music pleasingly matches that quality with saturnine orchestration and a muscular rhythm.
For the first 11 tracks Tron: Legacy is every inch the film soundtrack, musical episodes painting dark and sombre soundscapes. Then the stately-paced End of Line delivers a catchy synth-riff that repeatedly punches like a silicon fist in a latex glove. Derezzed ups the ante in rousing fashion before Solar Sailer glides gracefully in on sighing strings and gently arpeggiating synths. These tracks form the apex of the album, and the music that follows restates and consolidates themes.
The sonic might of the 100-member symphony orchestra assembled by Daft Punk is wielded to powerful effect. The penultimate track Tron Legacy (End Titles) thrillingly expounds the main theme with a tidal wave of a string section accompanied by tweaked synths. Finale recalls the majesty of Philip Glass' main theme for the film Koyaanisqatsi. It's a shame that the film's audience will most likely miss this music, having left the theatre during the credits, as it's a lovely final composition. Although not musically revolutionary, Tron: Legacy suggests the adrenaline rush of a black panther roaming nearby in the darkness, heard but not yet seen. –Colin Buttimer – Click to read original article.
My Little Empire Review
No to sure if I should be reviewing this album considering I am not a big fan of Daft Punk, having said that I do think this sound track is good. I have seen the movie and remember thinking that the music was great through out. Daft Punk seam to be going for a real lo-fi sound considering the type of music Daft Punk usually come up with but it works here. From the opening track you here the Tron music and that is echoed through out the album with a lot of really good beats. Worth the Money but may be see the film first. If you are a Daft Punk fan I think you should add this to you collection.
Stand Out Tracks
The Grid
Adagio for Tron
End of  Line
Derezzed
Solar Sailer