Fleet Foxes – Helplessness Blues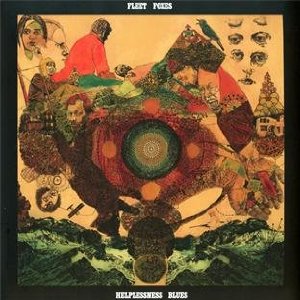 My Little Empire review
Well this album was meant to be the difficult second full album (taking "Sun Giant" as an ep). Well this is just as well rounded an album as Fleet Foxes". The sound is great the harmonies are spot on and the feel is great also. I see where people say that it is a little jazzier but I don't think that take away from the album but I think it adds to it. If you like the first album you will love the second. Can't wait for the third!!
Amazon review
"It was at times difficult to make this record," writes Fleet Foxes' lead singer Robin Pecknold in the self-penned press release for Helplessness Blues, citing illness, creative doubt and reassessment as factors the Seattle sextet grappled with in following up their massively popular, critically adored debut album. Not that you'd know it from a cursory listen: Helplessness Blues sounds every bit as assured as their earlier work, but given time to unfurl in your consciousness it displays facets of the band hitherto unseen. Peppered with ghostly harmonies and references to aging – even breaking out into free jazz at one point – it is a bigger, braver set than that which precedes it, suffused with both melancholy and sunshine….
……Helplessness Blues is born out of a fraught gestation period, touched by doubt, uncertainty and the travails of growing older and finding your place. But it is also a thing of beauty, and as the blissful outro of its title-track or the breathless, exuberant surge of closer Grown Ocean demonstrate, at its core lies a tangible sense of wonder and hope.
–James Skinner read full article click here.
Stand out Tracks
Helplessness Blues
The plains/ Bitter Dancer
Lorelai
Montezuma
Helplessness Blues Video