Paul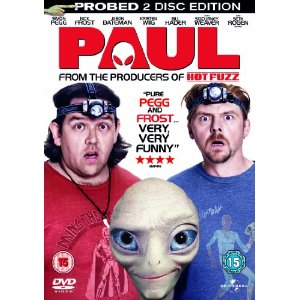 My Little Empire Review
I will say at the outset that I do not like Simon Pegg or Nick Frost. I watched the movie thinking that this is going to be bad and have very few laughs. Well I was kind of right. There were a few laughs and it was not too bad but the best think about this movie is Paul aka Seth Rogen. He had some great one liners. It is worth a watch and listen out for the book titles in relation to an author mentioned in the movie. They never repeat any of the book titles. Nice touch. I like Simon Pegg and nick frost a little more maybe its Simon Pegg I do not like when he is in a movie by himself. Anyway if you liked hot fuzz and Shaun of the dead you will love this.
Amazon Review
Everything you know about aliens from pop culture is true. At least that's the message from Paul, a swift, sharp, and very funny movie from the creative minds that also brought us Shaun of the Dead, Hot Fuzz, Superbad, and Adventureland. The British stars of the first two, Simon Pegg and Nick Frost, also wrote the snappy screenplay, and director Greg Mottola shows that he can make human and sentimental both the slapstick and the subtle, self-referential humour the same way he did in Superbad and Adventureland. The premise Pegg and Frost have laid out for themselves as likable, sci-fi fanatic supernerds is a dream vacation starting at Comic Con, then continuing through the American Southwest in an RV visiting historic UFO sites like Area 51, the Black Mailbox, and Roswell, and finishing up at Devil's Tower in Wyoming, the iconic centerpiece from Close Encounters of the Third Kind. After their inauspicious start, they happen upon an escaped alien who is 4 feet tall, and has the big head, classic diamond eyes, and features we've come to recognize as both the benevolent and evil kinds of space aliens from movies and TV. He is also the titular character, and as voiced by Seth Rogen, this CGI creature spouts a never-ending string of wisecracks, insider secrets, and frat-boy humour that comes loud and clear as classic Rogen in tone and attitude. As an aside and terrific example of the very clever throwaway punch lines that run throughout, there's a brief flashback to 1980 showing Paul on a conference call with Steven Spielberg (really), giving him advice about script development issues for E.T.
Paul crash-landed in the late 1940s and has been held prisoner by the government's men in black. They've not only been pumping him for knowledge, they've also leaked the fabric and features of his being to people who want to believe, especially the ones in Hollywood. Now Paul wants to go home, and he's found the perfect getaway with the want-to-believe team of Graeme (Pegg) and Clive (Frost), who take him to his rendezvous (at Devil's Tower, of course). The road movie that unfolds is consistently hilarious, moving nimbly through one-off gags and inside jokes, but also creating larger relationships and drawn-out humour that relies on us believing that the little CGI Paul is real. And mostly we do, again thanks to Rogen's delivery and distinctive vocalizing. Paul constantly quips, makes fun, gets drunk, smokes dope, and spouts a steady stream of patter about how aliens have been bowdlerized and reimagined in entertainment and the minds of people like Graeme and Clive. There's a jam-packed supporting cast that complements and complicates the story (in a good way), including Bill Hader and Joe Lo Truglio as the bumbling men in black, and Jason Bateman as the scary man in black. Also passing through are some fun familiar faces like Jane Lynch, David Koechner, Jeffrey Tambor, John Carroll Lynch, and an iconic sci-fi actress who shall remain unnamed. Especially good is Kristen Wiig as a fundamentalist Christian whose mind is literally blown by Paul. Amid the broad humour and nonstop punch lines there's also a sweetness that stays with each finely drawn character (including Paul) and gives Paul an amiable sentimentality that runs throughout. Everyone clearly had fun making this movie, and that's exactly how it is to watch. –Ted Fry- click here to read more.
Paul – The Trailer