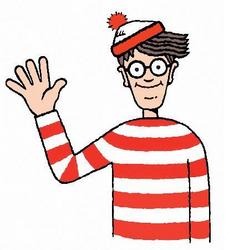 Crowds of "Wallys" are set to take over Dublin this weekend in a bid to break a world record and take a title from Cork.
The character is from the children's Where's Wally?   books and is deceptively hard to find, despite his distinctive red-and-white striped attire.
More than 2,500 people donned his trademark bobble cap and thick-rimmed glasses during a successful world record attempt in Cork last week, and Dubliners have the chance to break that record at 6pm today and tomorrow in Merrion Square.
Festival organiser Conor McCarthy said he expects to sell all the costumes – which are €12 online and €15 on the day – in aid of the Africa Aware Charity. A photo of those involved in the record attempt will appear in Monday's Irish Times .
The attempts are part of the Street Performance World Championship that takes place in Dublin this weekend. click here to read more
Where's Wally Guinness World Record Attempt, Dublin, 2011
19.06.2011 – Thousands of people took to the streets of Dublin in outfits identical to the children's book character 'Where's Wally' in an attempt to break the Guinness World Record for the number of people dressed as 'Where's Wally'.
Wallys sing We are the Champions and YMCA in Dublin
We are the Champions and YMCA from the Street Performance World Championship Where's Wally World Record Attempt June 18 2011