Jim Morrison Died 3rd july 1971
(40 years ago today)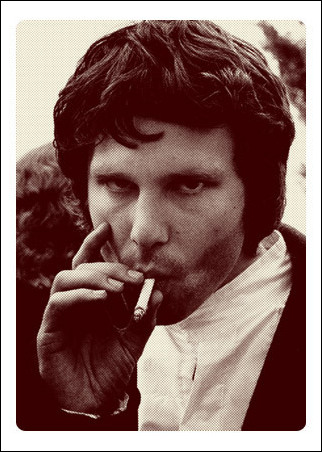 James Douglas "Jim" Morrison (December 8, 1943 – July 3, 1971) was born in Florida, he had one sister and his father was an admiral in the navy and moved around a lot.
In 1965, after graduating from UCLA and lived in Venice Beach. Morrison and fellow UCLA student Ray Manzarek were the first two members of The Doors followed after by John Densmore and Robby Krieger.
Thought out the history of the band, Jim Morrison became one of the best live performers in the 60's. With this came arrests in Miami and New Haven for public nudity and many bouts with drink and drug of all sorts.
After the finish of the band last album, Morrison flew to Paris in March 1971 and lived on the Right Bank. After months of drink and drug fueled nights, Morrison died on July 3, 1971. He was found in a Paris apartment bathtub dead. There was no autopsy done and because the medical examiner claimed to have found no evidence of foul play. As Jim said "the future is uncertain and the end is always near".
For more on all things "Jim Morrison" and "The Doors" just click on thedoorsareopen.com