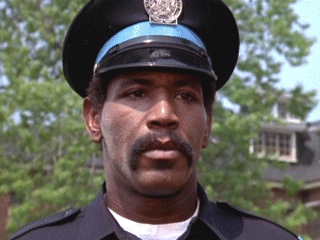 Bubba Smith, who died aged 66, was a former American football star who achieved international fame as the lovable Moses Hightower in six Police Academy films.
Six feet 7in tall and weighing more than 20 stone, Smith rose to fame in the Sixties as a defensive linesman with Michigan State University, where his intimidating size and ferocious tackles gave rise to the chant "Kill, Bubba, Kill". In 1967 he became the first pick of the National Football League draft and went on to play nine seasons before a knee injury brought an end to his career. "When hearing tales of Bubba Smith, you wonder, is he man or myth?" mused poet Ogden Nash.
The directors of Police Academy used Smith's sporting reputation to comic effect by portraying him as a big softie. The gently spoken Moses Hightower was a florist before joining the academy and suffers from a lack of self-confidence. Nonetheless his huge size and superhuman strength (he practises for his driving test by ripping the front seat out of a Honda Civic and steering from the back), give him something of an edge over his colleagues and he is eventually promoted to the rank of lieutenant after wrestling an alligator.
Charles Aaron Smith, always known as Bubba, was born in Beaumont, Texas, on February 28, 1945 and educated at Charlton-Pollard High School, where he played in the football team coached by his father. But he went to Michigan State only under protest, having wanted to play for the University of Texas.
It had rejected him, however, because he was black: Michigan State University was the beneficiary of southern racial intolerance.
After retiring from football, Smith began his acting career by appearing as himself in commercials for Miller Lite beer under the slogan "Tastes Great; Less Filling".
In one commercial he was to be seen beaming into the camera. "I also love the easy-opening cans," he said, while wrenching off its entire top.
As well as the Police Academy films, Smith starred in a short-lived television crime series Blue Thunder (1984) and had roles on other shows, including Charlie's Angels, Married With Children and Family Matters.
Bubba Smith was married but divorced. -read original article on Sunday independent website, click here.
other links to Youtube Videos
Police Academy 3 – Hightower Scenes (Bubba Smith) - click here>>
A Tribute To Bubba Smith. - click here>>
Bubba Smith – Hightower in "Police Academy" "Learning to drive" - click here>>