Sucker Punch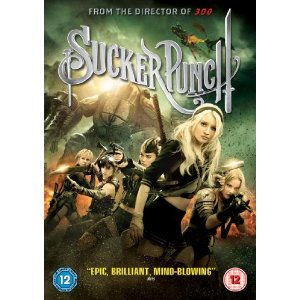 My Little Empire Review
Sucker punch is a bit of a strange movie. It was always going to be strange since the director ( Zack Snyder ) also directed watchmen and 300. I thought it was a good movie all the same. In three words Crazy, Sexy and Cool. Crazy, just the look and feel of the movie and how the 5 girls live inside their own Computer Generated Worlds. Sexy, clearly the 5 ladies ( Emily Browning, Abbie Cornish, Jena Malone, Vanessa Hudgens, and Jamie Chung ). Cool, The music the whole way through is great and includes Bjork, Pixies, Queen and Skunk Anansie. Some of the songs also include cast members from the movie. I recon it was good and worth a look. Check out the trailer below to see what you think.
Check out the Sucker Punch sound track, click here.
Amazon.co.uk Review
Sucker Punch has Moulin Rouge's freewheeling disrespect for genre, cramming dragons, zombie steampunk World War I German soldiers, robotic samurai, military helicopters, and gun-toting, scantily clad superbabes into a series of hyperviolent fantasies that spring from the undulations of a schizoid madhouse inmate. Sucker Punch also has The Matrix's disdain for the laws of physics, as svelte young women in tight clothes leap, spin, twirl, kick, and crash in slow-motion spectacles that only vaguely resemble how bodies actually move in space. On top of that, Sucker Punch has a video game's disinterest in characters, narrative, sensible dialogue, or sense of any kind, really–anything that might get in the way of the next spasm of bullets and sword slashes.
A troubled girl nicknamed Baby Doll (the preposterously glossy Emily Browning, whose china-doll looks previously appeared in Lemony Snicket's A Series of Unfortunate Events), traumatized by her impending lobotomy, reimagines her asylum as a hybrid cabaret/brothel. She and her just as whimsically monikered fellow inmates (played by Abbie Cornish, Jena Malone, Vanessa Hudgens, and Jamie Chung) use their feminine wiles and some kick-ass gyrations to escape… but things go very, very wrong. The relentless eye-candy comes from director Zack Snyder (Watchmen, 300), whose interest in decorative grime and glistening skin seems to short-circuit everything else. But there's no denying that eye-candy does abound. Also featuring Scott Glenn in the Yoda-esque role of "Wise Man." –Bret Fetzer – read more
Sucker Punch Trailer