Recently I was in Co Claire, Ireland in an area called "The Burren" and came across this great quote made during Oliver Cromwell's conquest of  Ireland. It was made by one of his generals who said of the Burren (and he was right, given the landscape).
"There isn't a tree to hang a man, water to drown a man nor soil to bury a man"
The Cromwellian conquest of Ireland (1649–53) refers to the conquest of Ireland by the forces of the English Parliament, led by Oliver Cromwell during the Wars of the Three Kingdoms. Cromwell landed in Ireland with his New Model Army on behalf of England's Rump Parliament in 1649. The conflict is sometimes referred to as the Cromwellian Wars.
 
Since the Irish Rebellion of 1641, Ireland had been mainly under the control of the Irish Confederate Catholics, who in 1649, signed an alliance with the English Royalist party, which had been defeated in the English Civil War. Cromwell's forces defeated the Confederate and Royalist coalition in Ireland and occupied the country – bringing to an end the Irish Confederate Wars. He passed a series of Penal laws against Roman Catholics (the vast majority of the population) and confiscated large amounts of their land…read more on Wikipedia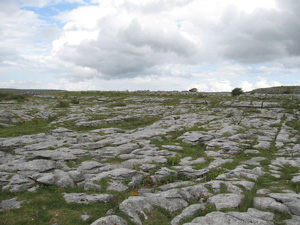 The Burren (Irish: Boireann, meaning "great rock", Boirinn, the dative form, is the modern form used by the Ordnance Survey) is a karst-landscape region or alvar in northwest County Clare, in Ireland. It is one of the largest karst landscapes in Europe. The region measures approximately 250 square kilometres and is enclosed roughly within the circle made by the villages Ballyvaughan, Kinvara, Tubber, Corofin, Kilfenora and Lisdoonvarna. It is bounded by the Atlantic and Galway Bay on the west and north, respectively.
A small portion of the Burren has been designated as Burren National Park. It is one of only six National Parks in the Republic of Ireland and the smallest in size (15 km²)…read more on Wikipedia