This weeks Quote of the Week come from Mark Twain. This is a quote about like and how your memory changes through out your life and how they fail in later life.
"When I was younger, I could remember anything, whether it had happened or not. But my faculties are decaying now, and soon I shall be so that I cannot remember any but the things that never happened. It is sad to go to pieces like this, but we all have to do it." wrote Mark Twain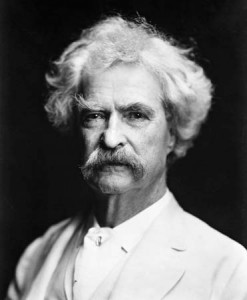 Samuel Langhorne Clemens (November 30, 1835 – April 21, 1910), better known by his pen name Mark Twain, was an American author and humorist. He is most noted for his novels, The Adventures of Tom Sawyer (1876), and its sequel, Adventures of Huckleberry Finn (1885), the latter often called "the Great American Novel."
 
Twain grew up in Hannibal, Missouri, which would later provide the setting for Huckleberry Finn and Tom Sawyer. He apprenticed with a printer. He also worked as a typesetter and contributed articles to his older brother Orion's newspaper. After toiling as a printer in various cities, he became a master riverboat pilot on the Mississippi River, before heading west to join Orion. He was a failure at gold mining, so he next turned to journalism. While a reporter, he wrote a humorous story, The Celebrated Jumping Frog of Calaveras County, which became very popular and brought nationwide attention. His travelogues were also well-received. Twain had found his calling. read more on Wikipedia click here.