I Come With The Rain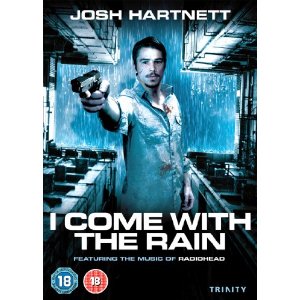 My Little Empire Review
"I Come With The Rain" will not be everyone's cup of tea. Be warned that I like strage movies and one's that make you think and that are stylish. I watched this because I am a fan of Josh Hartnett (Lucky Number Slevin, 30 days of nights) and I also like weird and strange movies with Elias Koteas (Crash, Let Me In). Radiohead supplie the score and you know it strange when they do the Soundtrack for a movies. Will I was not disappointed because I found it quiet good. It moves along like "Lost In Translation" and "All About Lily Chou-Chou" with the Guns and violence of a Korean great like Old Boy. I liked the acting except for the Chinese/Korean actors speaking English to each other did not work at times. It is very stylish and cool through out. It's strange, i liked it, you may not.  
Amazon Review
Ex-Los Angeles cop turned private eye Kline (Josh Hartnett) is hired by a billionaire industrialist to search for his missing son. Following a trail that leads him to Asia he soon finds himself in Hong Kong where he is sucked into the world of the city's most powerful gangster Su Dongpo (Byung-hun Lee from The Good, The Bad, The Weird and G.I. Joe: The Rise of Cobra).
Traumatized by his past as a cop and memories of the serial killer Hasford (Elias Koteas from Crash, Let Me In, Shutter Island), Kline must use everything that he has at his disposal to stay on track and find the missing son.
Action packed and explosive, I Come With The Rain features a career best performance from lead actor Josh Harnett. Click here to see original review
I Come With The Rain Trailer