The Guard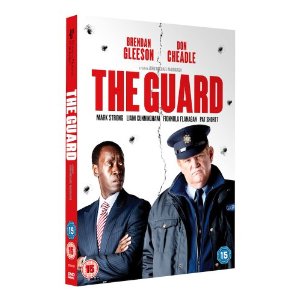 My Little Empire Review
 The Guard is another in the line of better Irish films out there today. Following "I Went Down", "Crush Proof" and "The Snapper" to name but a few. The Guard features some great performances by Brendan Gleeson and Don Cheadle. There is a lot of Irish stereo type tackled throughout with very funny consciences. I also like the way everyone seems to pass of the drug dealing as part of life and keep asking the FBI agent is he from the BAU (Behaviour Analyse Unit). The disappointment in their faces only the FBI. Certainly worth the watch. See it.
Amazon Review
Sergeant Gerry Boyle (Brendan Gleeson) is a small-town cop with a confrontational personality, a subversive sense of humour, a dying mother, a fondness for prostitutes, and absolutely no interest whatsoever in the international cocaine-smuggling ring that has brought FBI agent Wendell Everett (Don Cheadle) to his door. However, despite the fact that Boyle seems more interested in mocking and undermining Everett than in actively working to solve the case, he finds that circumstances keep pulling him back into the thick of it.
First his tiresomely enthusiastic new partner McBride disappears, then his favourite hooker attempts to blackmail him into turning a blind eye, and finally the drug-traffickers themselves try to buy him off as they have every other member of the local police force. These events unwittingly offend Boyle's murky moral code. He realises that he needs to take matters into his own hands, and the only person he can trust is Everett. And so the scene is set for an explosive finale.
Written and directed by John Michael McDonagh (Ned Kelly) and starring Brendan Gleeson (the Harry Potter series, In Bruges) and Don Cheadle (the Oceans films, Hotel Rwanda) as the ill-matched pair of lawmen, The Guard also stars Mark Strong (Sherlock Holmes, Kick-Ass), Liam Cunningham (Hunger, The Wind That Shakes The Barley), Fionnuala Flanagan (The Invention of Lying), David Wilmot (The Tudors), Rory Keenan (Zonad), Pat Shortt (Garage) and newcomer Katarina Cas. – read more
The Guard Trailer