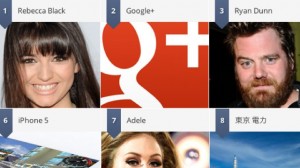 Google Zeitgeist 2011 Year In Review. What mattered in 2011? Zeitgeist sorted billions of Google searches to capture the year's 10 fastest-rising global queries and the rest of the spirit of 2011.
The Google Zeitgeist has just been announced. It is intresting to see the list of thing when you look at country to country. I have included a few of the lists below for the world wnd for Ireland and i have also a video of the results below. for more check out this link Google Zeitgeist 2011
Zeitgeist means -  "the spirit of the times" or "the spirit of the age." Zeitgeist is the general cultural, intellectual, ethical, spiritual or political climate within a nation or even specific groups, along with the general ambiance, morals, sociocultural direction, and mood associated with an era.
Top 10 fastest-rising global queries in 2011 – World Wide
Rebecca Black
Google+
Ryan Dunn
Casey Anthony
Battlefield 3
Iphone 5
Adele
(TEPCO) Fukushima I Plant
Steve Jobs
Ipad2
Zeitgeist 2011: Year In Review
Top 5 Fastest rising Searches in ireland
Donedeal
iphone 5
Rugby World Cup
Saorview
Pippa Middleton
Top 5 Entertainment in ireland
Sickipedia Jokes
Newstalk Listen Live
Ryan Dunn
Xfactor 2011
Google Guitar
Top 5 Song Lyrics in Ireland
Adele
Something like You
Rihanna
Eminem
Your song