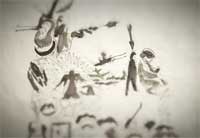 New Christmas Songs!! We all hear the same usual song on the TV and on the radio and some are great some are bad and some are timeless but there are not a lot of new Christmas songs out there. Most Christmas songs these days are just reissues and copies of other people's songs. This week we were sent the "No.1 Christmas Single" a demo by spudhead. We here at My Little Empire think this is a great song, easy to listen to and has flavours of Paul McCartney and nick drake throughout. As far as new Christmas songs go this is very good. The name is a bit dodgy could have been called "Take me Home " and the picture of Jesus at the end is a bit naff if it were santa it would have been worse but i can see where he was going. All in all a great song and well worth a listen. 
"No.1 Christmas Single" a demo by spudhead, Christmas song demo, about a soldier spending Xmas in a warzone and longing to be home with his family. Graphics by Jeff Cummins (better known as record sleeve designer for Paul McCartney, Ted Nugent etc…and his Doctor Who Target covers), animated by motion designer Jake Whiteman . "The idea for the video was sparked by having watched Mike Viola's video for his song; Good ideas grow on trees…"
Some of the other worthy mentions are….
 Emmy The Great & Tim Wheeler – Home For The Holidays
The Christmas Waltz – She & Him