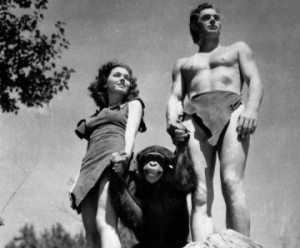 IF TARZAN'S co-star had been human, it's safe to assume that news of his demise would have been greeted with glowing tributes, a Hollywood funeral and perhaps a retrospective season of his greatest cinematic moments.
As it was, the death of an 80-year-old chimpanzee called Cheetah was announced quietly by the Florida animal sanctuary where he had spent the past five decades in retirement. There was no grand send-off for the venerable Cheetah. Even his role as Johnny Weissmuller's regular primate sidekick remains shrouded in mystery.
The Suncoast Primate Sanctuary in Palm Harbor claims the primate arrived there in 1960 and was donated by Weissmuller's own estate. He is believed to have been born in 1930 or 1931 and was one of a number of chimpanzees whose owners vied to have recognised as the genuine movie-star Cheeta (with no "h" at the end of its name). The situation is further complicated by the fact that the original star of films such as 1932's Tarzan the Ape Man and 1934's Tarzan and His Mate was probably a composite of several animals.
According to the sanctuary, Cheetah was an outgoing chimp who loved humans. Yet like many Hollywood stars, he could also be temperamental. Sanctuary volunteer Ron Priest conceded the animal had a habit of throwing his faeces when discontent.
"When he didn't like somebody or something that was going on, he would pick up some poop and throw it at them," Priest said. "He could get you at 30 feet with bars in between."
One Hollywood star who did mark the potential star's passing was actor Mia Farrow, whose mother, Maureen O'Sullivan, played Jane in six Tarzan movies. "My mom, who played Jane, invariably referred to Cheetah as 'that bastard'," said Farrow.
If he died at 80, Cheetah's long lifespan would have made him one of the oldest chimpanzees in history. Even in captivity, the animals rarely live past 50.
The character was created especially for the Weissmuller Tarzan films and did not appear in the original books by Edgar Rice Burroughs. Another Cheeta, this time with no "h", was exposed as a fake in 2008 by Washington Post journalist RD Rosen, who had been asked to write a biography of him. In later years, the fake Cheeta had found himself marketed as a painter of "ape-stract art", with several canvases exhibited at London's National Gallery.
However, with a little investigation, Rosen discovered that the cigar-smoking, paint-daubing impostor was in fact born in 1960 or 1961 and had never been in a Tarzan film.
Sadly for fans of the Weissmuller-era Tarzan, the animal closest to being the "real" Cheetah was most likely a chimpanzee named Jiggs, who died way back in 1938. – irish times