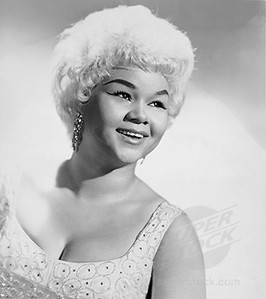 20 january 2012, US soul singer Etta James, best known for the tracks At Last and for I'd Rather Go Blind, has died aged 73. It was announced last year that the singer had been diagnosed with leukaemia and was undergoing treatment. The star began singing in a group aged 14, before she embarked upon a solo career where she signed to the legendary Chess Records label.
She went on to win six Grammy Awards and was inducted into the Rock and Roll Hall of Fame in 1993.
Legendary producer Jerry Wexler once called her "the greatest of all modern blues singers".
James' manager said she died at Riverside Community Hospital in California with her husband and sons at her side.
"It's a tremendous loss for her fans around the world," Lupe De Leon said. "She'll be missed. A great American singer. Her music defied category."
Singers have paid tribute to the star on Twitter. Bryan Adams wrote "Etta James… one of the best voices of all time… RIP".
Songwriter Nile Rodgers added: "When I was a kid, I remember walking all the way to Flash Record Shop in LA to buy a 45rpm single by Etta James. RIP."
British singer Adele has often cited James as an influence, and wrote an article praising her for The Observer in 2010.
"Everything she sings – you believe her, even if she never wrote a word of it herself. I saw her live in New York not so long ago: Extraordinary."
 The singer's anguished blues vocals made her stand out, even as a child Born Jamesetta Hawkins in 1938, her mother was only 14 years old, and she never knew her father.
Raised mainly by friends and relatives, she began singing when her grandparents took her to a Baptist Church, where she joined the choir as a soloist.
Later, in San Francisco, she formed a singing group called the Creolettes, who were discovered by bandleader Johnny Otis, who coincidentally also died this week.
The band recorded together for a number of years but it was not until 1960, when James signed to the legendary Chess Records as a solo artist, that she began to achieve musical recognition.
It was for this label that she released her two most acclaimed albums, At Last and The Second Time Around.
The former included her impassioned cover of Muddy Waters' I Just Want To Make Love To You, which is considered the predominant interpretation of the song – and gave James her biggest chart hit in the UK, landing at number five in 1996 after it was featured in an advert for Diet Coke.
However, her success in the 1960s was hindered by an addiction to heroin, and she was forced to rebuild her career after quitting the drug in 1974.
'Wonderful music'   Although she was popular on the R&B and blues scene throughout her career, mainstream success eluded her for many years.
She did not receive her first Grammy Award until 1994, for the album Mystery Lady, which consisted of covers of Billie Holiday songs. In 2003, she was given the Grammy Lifetime Achievement Award. Several modern R&B stars paid their respects following the news of her death. Black Eyed Peas frontman Will.i.am wrote on Twitter: "Showing respect appreciation and love for all the wonderful music and joy Etta James brought to the world." Kelly Rowland said: "Classic. One of a kind. Pure soul." "Thank you for gracing us with your incredible talent and presence." – original article on bbc.co.uk