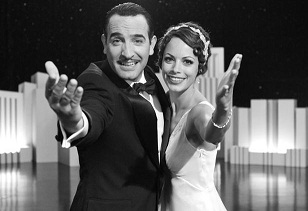 The Artist , Michel Hazanavicius's silent black-and- white movie, continued its triumphant parade through awards season by picking up best film, best director and best actor at the British Academy of Film and Television Awards (Bafta) last night.
The film completed its tally of seven gongs by grabbing the prizes for original screenplay, costumes, music and cinematography. Asif Kapadia's Senna , the story of motor racing driver Ayrton Senna, expectedly won best documentary, but slightly dented The Artist 's evening by taking the best editing statuette.
Meryl Streep won best actress for her turn as Mrs Thatcher in The Iron Lady . Octavia Spencer, sparky as a maid in The Help , was on hand to pick up best supporting actress.
The mighty Christopher Plummer, now a hearty 82, won best supporting actor for his performance as a gay father in Beginners . None of these awards counted as serious surprises. The ceremony, hosted by Stephen Fry, took place in a freezing London, but such luminaries as Brad Pitt, Tom Jones and George Clooney all turned out for the increasingly starry ceremony.
While crossing the red carpet, Clooney commented that the awards, previously a "fun thing", had become "a much bigger deal in the past 10 years or so". He's right. Since the organisers moved the awards to within a few weeks of the Oscars, the Baftas have – not least because the two electorates overlap – proved among the best indicators to the Academy Awards.
Home advantage is, however, still a factor at the Baftas. Viola Davis, nominated for The Help , is the bookies' pick for the best actress Oscar. Despite being born in New Jersey, Streep counts as an honorary Brit after delivering such a strong performance as Mrs Thatcher, so her win does not alter the reckoning much.
Kerryman Michael Fassbender, not nominated for an Oscar, went home empty-handed after being shortlisted in the Baftas for his turn in Shame .
The near-sweep for The Artist  now makes that film odds-on favourite for best film at the awards that really matter.
There was a particularly touching moment when Peter Straughan, winner of the best-adapted screenplay award for Tinker Tailor Soldier Spy,  paid tribute to Bridget O'Connor, his wife and collaborator, who died last year. "She wrote all the good bits and I made the coffee," he said.
John Hurt was predictably amiable, if rambling, as he accepted a Bafta for "outstanding British contribution". The academy's highest award, the Fellowship, was gifted to Martin Scorsese – original article