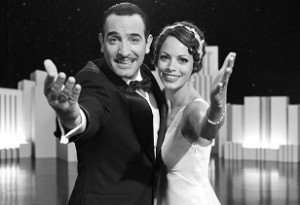 As expected, The Artist,  Michel Hazanavicius's black-and-white silent film, took the Academy Award for best picture last night.
There was good news for the Irish with Terry George's The Shore  securing the best live-action short prize.
Mr George who was raised in Belfast, said: "Our little film was inspired by the people of Northern Ireland, Protestant and Catholic, who, after 30 years of war … proved to the world the Irish are great talkers."
Hazanavicius's film won five Oscars in total, as did Martin Scorsese's Hugo . Jean Dujardin, suave star of the silent flick, just slipped ahead of George Clooney, nominated for The Descendants,  in the race for best actor.
The Artist  had been a favourite for the best picture award since its triumphant premiere at the Cannes Film Festival a full nine months ago.
The crowd swelled when Meryl Streep walked up to accept the best actress prize for her performance as Margaret Thatcher in The Iron Lady.
"I could hear half of America saying: 'Oh no, not her again'," she said. In fact, it has been 30 years since Streep won her last Academy Award.
Octavia Spencer cried spectacularly while accepting the best supporting actress statuette for her turn as a plucky African-American maid in The Help.
Christopher Plummer, at 82, became the oldest actor ever to win an Oscar when he took the best supporting actor award for his role in Beginners . "You're only two years older than me," Plummer said to his award. "Where have you been all my life."
Billy Crystal, returning for his ninth turn as presenter, headed up a reassuringly old-fashioned show.
The routines were hokey. The gags were broad.
One particularly ancient tradition was revived when Woody Allen, victorious in the best original screenplay category, failed to turn up to collect his award. Allen almost always shuns the ceremony. – original article