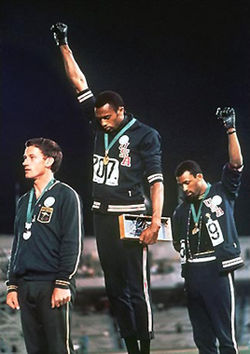 The Human Rights / Black Power salute at the 1968 Olympics was a protest made by the African American athletes Tommie Smith and John Carlos; the athletes made the raised fist gesture at the Olympic Stadium in Mexico City. The Australian competitor, Peter Norman, who was neither black nor American, also wore a human rights badge on his shirt during the ceremony to show his support to the two Americans. The event was one of the most overtly political statements in the history of the modern Olympic Games. Tommie Smith stated in his autobiography, Silent Gesture, that the gesture was not a "Black Power" salute, but in fact a "human rights salute". - original
What is less known is that Norman, a white Australian, donned a badge on the podium in support of their cause, the Olympic Project for Human Rights (OPHR). After the race, Carlos and Smith told Norman what they were planning to do during the ceremony. As Flanagan wrote: "They asked Norman if he believed in human rights. He said he did. They asked him if he believed in God. Norman, who came from a Salvation Army background, said he believed strongly in God. "We knew that what we were going to do was far greater than any athletic feat. He said, 'I'll stand with you'."
Carlos said he expected to see fear in Norman's eyes. He didn't. "I saw love. On the way out to the medal ceremony, Norman saw the badge being worn by Paul Hoffman, a white member of the US Rowing Team, and asked him if he could wear it. It was also Norman who suggested that Smith and Carlos share the black gloves used in their salute, after Carlos left his gloves in the Olympic Village. This is the reason for Tommie Smith raising his right fist, while John Carlos raised his left.
Australia's Olympic authorities reprimanded him and the Australian media ostracised him; Norman was also banned for two years on his return. Despite Norman running qualifying times for the 100m five times and 200m 13 times during 1971/72, the Australian Olympic track team did not send him, or any other male sprinters, to the 1972 Summer Olympics in Munich, the first modern Olympics since 1896 where no Australian sprinters participated.
Norman died of a heart attack on 3 October 2006 in Melbourne at the age of 64. US Track and Field Federation proclaimed 9 October 2006, the date of his funeral, as Peter Norman Day. Thirty-eight years after the three made history, both Smith and Carlos gave eulogies and were pallbearers at Norman's funeral. and they stood by him….
Tommie Smith (born June 6, 1944) is an African American former track & field athlete and wide receiver in the American Football League. At the 1968 Summer Olympics, Smith won the 200-meter dash finals in 19.83 seconds – the first time the 20 second barrier was broken. His Black Power salute with John Carlos atop the medal podium caused controversy at the time as it was seen as politicizing the Olympic Games. It remains a symbolic moment in the history of the African-American Civil Rights Movement. – original
John Wesley Carlos (born June 5, 1945 in Harlem, New York) is a former track and field athlete and professional football player. He was the bronze-medal winner in the 200 meters at the 1968 Summer Olympics and his Black Power salute on the podium with Tommie Smith caused much political controversy.
He went on to tie the world record in the 100 yard dash and beat the 200 meters world record (although the latter achievement was never ratified). After his track career, he enjoyed brief stints in the National Football League and Canadian Football League but retired due to injury.   He became involved with the United States Olympic Committee and helped to organize the 1984 Summer Olympics. Following this he became a track coach at Palm Springs High School. He was inducted into the USA Track & Field Hall of Fame in 2003. – original
Peter George Norman (15 June 1942 – 3 October 2006) was an Australian track athlete best known for winning the silver medal in the 200 metres at the 1968 Summer Olympics in Mexico City. His time of 20.06 seconds still stands as the Australian 200m record. He was a five-time Australian 200m champion. He is also known for his support of John Carlos and Tommie Smith when they made their famous gesture at the 1968 Olympics medal ceremony. – original
Peter Norman – Australian for Human Rights 1968 Olympics
1968 Olympics
Salute The Movie