L.A. Confidential (1997)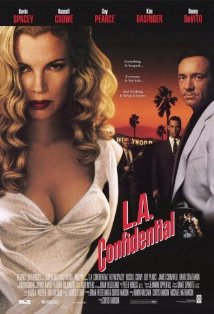 Amazon Review
In a time when it seems that every other movie makes some claim to being a film noir, LA Confidential is the real thing–a gritty, sordid tale of sex, scandal, betrayal and corruption of all sorts (police, political, press–and, of course, very personal) in 1940s Hollywood. The Oscar-winning screenplay is actually based on several titles in James Ellroy's series of chronological thriller novels (including the title volume, The Big Nowhere and White Jazz)–a compelling blend of LA history and pulp fiction that has earned it comparisons to the greatest of all Technicolour noir films, Chinatown.
Kim Basinger richly deserved her Supporting Actress Oscar for her portrayal of a conflicted femme fatale; unfortunately, her male costars are so uniformly fine that they may have canceled each other out with the Academy voters: Russell Crowe, Guy Pearce, Kevin Spacey and James Cromwell play LAPD officers of varying stripes. Pearce's character is a particularly intriguing study in Hollywood amorality and ambition, a strait-laced "hero" (and son of a departmental legend) whose career goals outweigh all other moral, ethical and legal considerations. If he's a good guy, it's only because he sees it as the quickest route to a promotion. –Jim Emerson. Click here to read the original article.
My Little Empire Review
L.A. confidential is a cop thriller, who done it and why movie. It stars Russell Crowe, Guy Pearce, Kevin Spacey and James Cromwell. This is a movie in the classic style of 1940's cop gangsters. It's fast passed and smart. There are some great performances from Pearce and Crowe. If you want to watch one of the best crime movies then this is the movie for you. Watch the video below. This movie should be added to any good movie collection.
L.A. Confidential Trailer
<- Back To Movie Selection Page