Lawrence of Arabia (1962)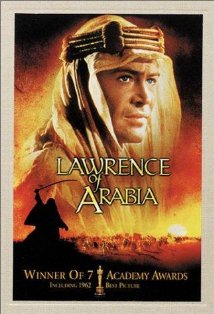 Amazon Review
In 1962 Lawrence of Arabia scooped another seven Oscars for David Lean and crew after his previous epic, The Bridge on the River Kwai, had performed exactly the same feat a few years earlier. Supported in this Great War desert adventure by a superb cast including Alex Guinness, Jack Hawkins and Omar Sharif, Peter O'Toole gives a complex, star-making performance as the enigmatic TE Lawrence. The magnificent action and vast desert panoramas were captured in luminous 70mm by Cinematographer Freddie Young, here beginning a partnership with Lean that continued through Dr Zhivago (1965) and Ryan's Daughter (1970). Yet what made the film truly outstanding was Robert (A Man For All Seasons) Bolt's literate screenplay, marking the beginning of yet another ongoing collaboration with Lean. The final partnership established was between director and French composer Maurice Jarre, who won one of the Oscars and scored all Lean's remaining films, up to and including A Passage to India in 1984. Fully restored in 1989, this complete version of Lean's masterpiece remains one of cinema's all-time classic visions. –Gary S Dalkin, Click here to read the original article.
My Little Empire Review
Lawrence of Arabia is a great movie by David Lean. He won seven Oscars for this movie. If you want to have an easy Saturday evening movie then this is the one. The above review tells you every thing that you need to know about the movie. My favourite scene is at the start when you see Peter O'Toole looking across the desert at the shape of Omar Sharif on a camel coming across the desert. Watch the trailer to see more.
Lawrence of Arabia Trailer
<- Back To Movie Selection Page