The Departed (2006)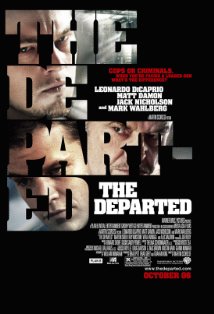 Amazon Review
Martin Scorsese makes a welcomed return to the mean streets (of Boston, in this case) with The Departed, hailed by many as Scorsese's best film since Casino. Since this crackling crime thriller is essentially a Scorsese-stamped remake of the acclaimed 2002 Hong Kong thriller Infernal Affairs, the film was intensely scrutinized by devoted critics and cinephiles, and while Scorsese's intense filmmaking and all-star cast deserve ample acclaim, The Departed is also worthy of serious re-assessment, especially with regard to what some attentive viewers described as sloppy craftsmanship (!), notably in terms of mismatched shots and jagged continuity. But no matter where you fall on the Scorsese appreciation scale, there's no denying that The Departed is a signature piece of work from one of America's finest directors, designed for maximum impact with a breathtaking series of twists, turns, and violent surprises.
It's an intricate cat-and-mouse game, but this time the cat and mouse are both moles: Colin Sullivan (Matt Damon) is an ambitious cop on the rise, planted in the Boston police force by criminal kingpin Frank Costello (Jack Nicholson). Billy Costigan (Leonardo DiCaprio) is a hot-tempered police cadet who's been artificially disgraced and then planted into Costigan's crime operation as a seemingly trustworthy soldier. As the multilayered plot unfolds (courtesy of a scorching adaptation by Kingdom of Heaven screenwriter William Monahan), Costigan and Sullivan conduct a volatile search for each other (they're essentially looking for "themselves") while simultaneously wooing the psychiatrist (Vera Farmiga) assigned to treat their crime-driven anxieties.
Such convenient coincidences might sink a lesser film, but The Departed is so electrifying that you barely notice the plot-holes. And while Nicholson's profane swagger is too much "Jack" and not enough "Costello," he's still a joy to watch, especially in a film that's additionally energised by memorable (and frequently hilarious) supporting roles for Alec Baldwin, Mark Wahlberg, and a host of other big-name performers. The Departed also makes clever and plot-dependent use of mobile phones, to the extent that it couldn't exist without them. Powered by Scorsese's trademark use of well-chosen soundtrack songs (from vintage rock to Puccini's operas), The Departed may not be perfect, but it's one helluva ride for moviegoers, proving popular enough to become the biggest box-office hit of Scorsese's commercially rocky career. –Jeff Shannon, Click here to read the original article.
My Little Empire Review
Martin Scorsese's The Departed is a remake or reworking of 2 Japanese's movies called "Internal Affairs 1 & 2". This is a classic cops and robbers movie expect you have 2 people undercover one as a police man and one as a Gangster. Great cast all round Matt Damon, Jack Nicholson, Leonardo DiCaprio, Alec Baldwin and Mark Wahlberg to mention but a few. Can't really say any thing else than what was said above. This should be in everybody's DVD Collection.
The Departed Trailer
<- Back To Movie Selection Page