The Good, The Bad and The Ugly (1966)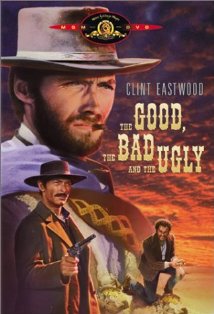 Amazon Review
Clint Eastwood ("the Man with No Name") is good, Lee Van Cleef (named Angel Eyes Sentenza here) is bad, and Eli Wallach (Tuco Benedito Pacifico Juan Maria Ramirez) is ugly in the final chapter of Sergio Leone's trilogy of spaghetti Westerns (the first two were A Fistful of Dollars and For a Few Dollars More). In this sweeping film, the characters form treacherous alliances in a ruthless quest for Confederate gold. Leone is sometimes underrated as a director, but the excellent resolution on this DVD should enhance appreciation of his considerable photographic talent and gorgeous widescreen compositions. Ennio Morricone's jokey score is justifiably famous. The DVD includes about a quarter-hour of footage not seen in the original release. — Amazon.com. Click here to read the original article.
My Little Empire Review
In fairness if you are ever going to look at one western in you life let it be "The Good, The Bad and the Ugly". Clint Eastwood is great in this movie. He is his typical bad ass self. The late Eli Wallach and Lee Van Cleef also give two great performances. The three are all looking for confederate gold located in a cemetery. Then the music kicks in and if you do not know anything about westerns you all ready know this music. Where's the gold buried? Find out for yourself.
The Good, The Bad and The Ugly Trailer
<- Back To Movie Selection Page