Dan Le Sac vs. Scroobius Pip – Angles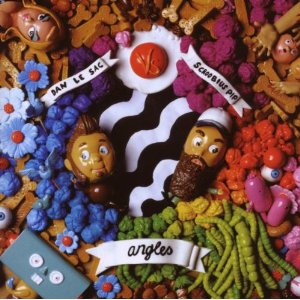 Amazon Review
Upon first listen some dismissed Thou Shalt Always Kill as a new version of Baz Luhrmann's utterly hateful Sunscreen, aimed squarely at ironically-coiffure Shoreditch residents. Repeated hearings actually revealed the debut Dan Le Sac VS Scroobius Pip single to be a lyrically dexterous celebration of independent thinking and hilarious condemnation of lazy bandwagon-jumping. It also included arguably the greatest line of 2007, "Thou shalt not question Stephen Fry".
Although !Kill became an alt-anthem in spite of itself, it could have easily been the last eager fans heard of Essex MC Pip and production ace Le Sac, were it not for their abilities behind both microphone and mixing desk.
Pip, the man with the densest, most imposing beard in UK rap, has a similarly formidable set of rhymes that delight throughout Angles. On Development, Scroobius praises Mos Def for rhyming the alphabet, before a mid-song switching of beat sees him rap the periodic table to hilarious and exhilarating effect.
This smart spitting, redolent of a suburban Skinny Man or more long-in-the-tooth Mike Skinner, is used to effectively elicit poignancy on Tommy and most notably on Magician's Assistant. While a moody sounds cape sounds like a scary stagger away from consciousness, Pip chats about self-harm. The result is a better anti-suicide ode than REM's Everybody Hurts.
Le Sac's production highlights include cutting Dizzee Rascal grime beats into Fixed, meaty trance throbs on the malevolent shoplifting tale of the title track and his inspired use of a sample from Radiohead's Planet Telex on Letter from God to Man. It's to his credit there's as much deft imagination in the music as there is in the lyrics.
Few could have expected this album to include more than a couple of passable songs on the back of what seemed like a novelty hit. That Angles is worthy of careful, repeated listens is as pleasant a surprise as a hangover-free Saturday. –Lou Thomas – click here to read original article

My Little Empire Review
Considering the rest of the albums I chose for this website, this is the most different of them. Scroobius Pip lays down the lyrics and Dan Le Sac puts down the beats. Some great beats all thought this album include Hip-hop, Jungle, Drum & Bass and LoFi. U.k. rap is not something I am in to because it usual has a lot of rude boy style music attached to it witch is not good. The album is worth buying just for something completely different. Look out for Radioheads Street Sprit on "Letter From God to Man". Check out "Tommy C" as well, this tells the story of Tommy Cooper and his last stand up show where he died on stage "and not one tear was cried". This album is not for everybody and I get that. Check it out on Youtube and have a listen to it before you buy, You just might like it.
Stand Out Tracks:
Tommy C
Magician's Assistant
Thou Shalt Always Kill
Look For The Woman
Letter From God to Man
<- Back To Album Selection Page