Neil Young – Live at Massey Hall 1971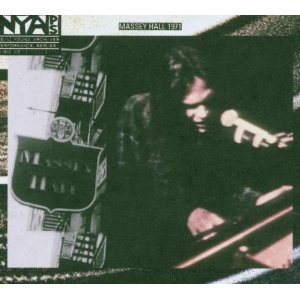 Amazon Review
It never rains but it pours eh? A good decade and a half after taunting us with tales of boundless archive treats and multiple disc box sets Neil Young seems to have finally decided that we've been patient enough. Mere months after releasing the awesomely good Live at the Fillmore East (with Crazy Horse) he now brings us this historic gig from 1971 in its entirety. Boy was it worth the wait!
Following the commercial highpoints of his stint with Crosby Stills and Nash and the platinum-selling After The Gold rush – this gig represents a triumphant homecoming of sorts. The excitement of the audience witnessing the local boy's return is palpable, even when Young announces that he's going to be doing a set mainly composed of new numbers! But what numbers they are.
His next album was to be his greatest commercial achievement (and ironically was to eventually force him onto a more challenging musical path) – Harvest. Stripped of either the country garage stylings of Crazy Horse or his more salubrious West Coast chums, these direct readings brim with the energy of a man hitting his song writing zenith. Not only do we get early versions of classics such as "Heart Of Gold" or "Old Man" we hear songs that were either shelved for several years ("See The Sky About To Rain", "Journey Through The Past" and "Love In Mind") or simply never saw the light of day ("Bad Fog Of Loneliness").
Peppered with earlier material, even from his days with Buffalo Springfield, it fast becomes clear that this is no ordinary 'unplugged' experience. His approach to acoustic troubadour chic had, by this point, been tempered by his membership of the West Coast royalty. Every chord and inflection contain the sun-drenched mellowness and harmonic sophistication associated with the period, but remain entirely Young's due to his own gloomier perspective ('I live on a ranch now! lucky me.').
For all that, Young is obviously in fine spirits, joking with the crowd while still bringing a fierce concentration to each number. The ringing applause prior to the encore of 'I Am A Child' says it all, really. His producer, David Briggs, urged Young to release the gig instead of Harvest, and listening to it 35 years later, you can see why. This is the real Neil! –Chris Jones click here to read original article

My Little Empire Review
It is hard to say anything else that has not been said because I just read the above review of this album and I could not agree more. This is the real Neil Young. This album was early in his career and before the album "harvest". Some of the some that he is introducing as "new" are now Neil Young standards but they have a freshness and sound that make them seam that much better. Sit back and enjoy Neil Young Live at Massey Hall 1971. You will not regret it.
Stand Out Tracks:
Love in Mind
Old Man
A Man Needs a Maid/Heart of Gold
Cowgirl In The Sand
<- Back To Album Selection Page