The National – Boxer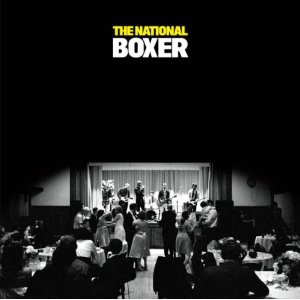 Amazon Review
Matt Berninger, vocalist for Brooklyn's The National, has a remarkable baritone – rich, syrupy, and heavy with a melancholy and regret that precious few of his peers can muster. It's the sort of voice that doesn't make for Top 40 records, necessarily. But as with The National's peers – bands like American Music Club and the Tindersticks, or going back a little further, Godfather Of Gloom Leonard Cohen – there's much evidence here on Boxer, that the glass-half-empty take on life can produce some pretty special music.
It's not all about Berninger, though. Four albums have seen The National mature into a band with a grasp of impressive scope and subtle dynamics. See how the opening 'Fake Empire' masters the art of the gentle build, starting as a gentle, minimalist-tinged piano elegy and building into a stomping one-chord bass jam embellished with swooping horns. Also the magic 'Mistaken For Strangers', a standout cut that takes the shimmering guitars and circular drums of U2 and reworks their optimistic bombast into a boozy, lonely lament to the 'unmagnificent lives of adults'. 'You wouldn't want an angel watching over you', sings Berninger, in the song's most affecting line, 'Surprise, surprise – they wouldn't want to watch'.
If there's a fault to Boxer, it's that beyond its remarkable opening salvo, The National feel noticeably lighter on the anthems than they did on 2005′s rightly hailed Alligator. On songs like 'Squalor Victoria' and 'Guest Room', the band seem more content to drift along on Bryan Devendorf's galloping, cyclical drumming, exploring textures rather than building to peaks. It's an approach that has charms of its own – see 'Green Gloves', a sleep-dazed ramble that reconciles rustic alt-country charm with the ethereal textures of shoe gaze rock. In the long run, though, it leaves Boxer feeling a somewhat slighter piece of work than its predecessor, if still a pretty fine album in its own right. –Louis Pattison - click here to read original article 

My Little Empire Review
So. I first heard this album in the store room of Zavvi Music (aka Virgin megastore) where I once worked. I thought it's not bad so I listened to it again and again. This is certainly one of my favourite albums of all time. The lead singers "Matt Berninger" vocals are great all throughout the album. Then you have Bryan Devendorf's underpinning drumming going through the track at a galloping pace. They recently brought out a new album but this is so much better. There are some great tracks like Ada, Mistaken for Strangers, Squalor Victoria and Fake Empire. There are just one of the great band coming out of north America at the moment. Others like Bon Iver, Fleet Foxes, Gas Light Anthems and the low anthems have made their mark and this is The National's time to shine.

Stand Out Tracks :
Squalor Victoria
Fake empire
Ada
Racing like a pro
Brainy

<- Back To Album Selection Page