The National – High Violet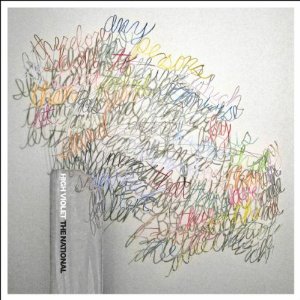 Amazon Review
Brooklyn's The National are the absolute antithesis of an overnight success. Together for over a decade, the group's slow ascent to international acclaim has been emotional. While several critics have clicked with albums of swollen heart and bruised soul, a handful have mistaken deliberate, delectable languor for dismissible listlessness. But those who've embraced Matt Berninger's baritone, and subsequently each fascinating detail that trails in its wake, have discovered a band for life – for love and loss, euphoric highs and exhausting lows. For everything, always.
2005′s Alligator – its Daughters of the Soho Riots still empties the air from this listener's lungs every time – marked the moment The National broke underground (2010 parlance: 'blogosphere') cover, and they've refined and arguably improved their output ever since. High Violet is the quintet's fifth long-player proper (and highest of profile yet), following 2007′s excellent Boxer, and again features orchestral embellishments courtesy of Clogs' Padma Newsome. It is being talked about in certain circles as a potential album of the year, but this is no release to shout about from the rooftops in the hope of attracting strangers. Its charms are subtle, its grip soft and easily shrugged by those who choose to pay it only passing attention. Live with it a while, though, and High Violet rewards patience with songs that colour one's waking existence, becoming vivid night-time narratives when curtains are drawn.
Berninger's lyrics, though tonally divisive, are incredibly engaging. He's no Steinbeck, no Kerouac, despite endorsements from the most feverishly faithful; but his stories, delivered with wrenching sincerity, form the first point of entry for newcomers awaiting enlightenment. High Violet is an album characterised largely by absence, and displacement – of being someplace other than ideal. This extends from simple geography – the overseas lover of England's vexed protagonist, the big-city claustrophobia of the luscious Little Faith – to the afterlife ruminations of Anyone's Ghost, a song that blindsides with its switch from aloof coolness to an affecting concession of continued allegiance after death parts its players.
To the untrained ear, High Violet may sound pedestrian. But such drama lies in the richly textured nuances that this album ultimately plays like a movie you'd never dream of breaking from, whatever the reason. Set fire to the theatre and The National will play on, those who paid attention earlier again foregoing comfort for captivating beauty, until the final flames flicker into stillness. –Mike Diver – Click here to read original review.
My Little Empire Review
Well this is a great follow up to the last album "The Boxer". This is a grower and it is still growing on me. High Violet has a little more drumming in the back track and a little more guitar feedback, not that this is a bad thing it is just different than the last album where it was a little quieter thought out. There are some great track on here such as "Bloodbuzz Ohio", "Lemonworld" and "Sorrow". You will see this album among the "Albums of the year" awards on many papers and magazines. I think It should be there as this is a great album. I think we will see them playing a lot more concerts this winter and in the spring.
Stand Out Tracks
Bloodbuzz Ohio
Lemonworld
Sorrow
Afraid Of Everyone
Conversation 16