C.S.I. Miami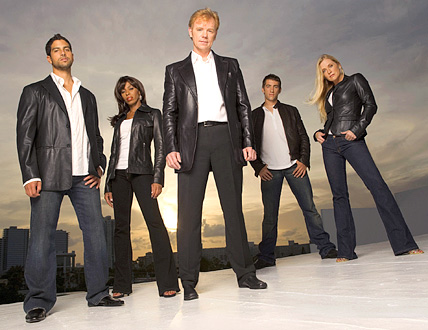 About The Show
Fast-paced crime drama that follows the investigations of a cutting-edge forensics team based in the tropical climes of southern Florida. A spin-off of the hugely popular television series C.S.I. – CRIME SCENE INVESTIGATION, C.S.I. MIAMI places more emphasis on police work than science–sharing its parent show's penchant for grisly crime re-enactments–and boasts a flashier cinematographic style that befits its sun-kissed locale.
Following in the footsteps of the highly successful forensic drama CSI, this series focuses on the crime-rich city of Miami, Florida.
With cutting-edge technology at their fingertips, each series in the CSI franchise allows viewers to fully understand every step involved in investigating the science of each case.
From relationship issues to family drama, this particular series delves much deeper into the private lives of the characters than the other two shows in the franchise. As much as we love watching a case unfold, we can't help but eagerly anticipate those romantic developments between our favourite characters each week.
The Cast
David Caruso as Lieutenant Horatio Caine
Emily Procter as Calleigh Duquesne
Adam Rodriguez as Eric Delko
Sofia Milos as Det. Yelina Salas
Jonathan Togo as Ryan Wolfe
Favourite Quotes
(victim is lying dead on the floor, with a knife in his head)
Ryan Wolfe: Knife missing from this block could be our murder weapon.
Alex Woods: [sarcastically] Nice work, Ryan. Think you may have cracked the case.
Ryan Wolfe: Thanks. I have a keen grasp of the obvious.
---
(about Raymond Caine, H's little brother)
Horatio Caine: The rumour of a dirty cop is far juicier than its confirmation. Robert Keaton: You just called your own brother a dirty cop.
Horatio Caine: Maybe he was, but he didn't deserve to die.
Robert Keaton: We all have to die some time.
Horatio Caine: Some sooner than others.
---
Eric Delko: Sorry I'm late. I was busy.
Tim Speedle: Busy with the left hand?
Eric Delko: (smirking) Very funny.
---
(Noticing a big black car in front of a witness' house)
Horatio Caine: Mm-hmm. Town car, tinted windows, take a guess.
Detective John Hagen: Fan-belt inspectors?
Horatio Caine: Nope. U.S. Marshals witness protection baby-sitters.
---
Horatio Caine: We are being detoured into the land of make-believe.