Criminal Minds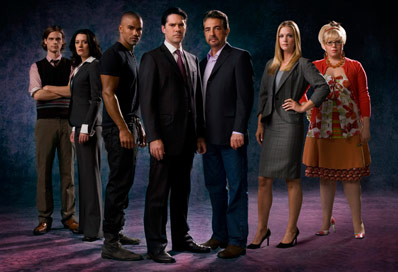 About The Show
This popular show follows a group of FBI agents as they go inside the minds of vicious murderers. With Emmy-winner Mandy Patinkin (CHICAGO HOPE) playing a star behaviour analyst, these profilers try to solve mysteries by delving into the psychology of serial killers and terrorists. In addition to Patinkin, CRIMINAL MINDS stars Thomas Gibson as the group's leader. Several of the group's members are able to offer special insight into specific cases: Lola Glaudini's character understands sexually related crimes, and Shemar Moore's agent helps to solve crimes of obsession. Matthew Gray Gubler plays a young agent whose social skills don't quite match his high level of intelligence. Offering insight into both real and fictional crimes, this show is an essential for drama devotees.
Criminal Minds revolves around an elite team of FBI profilers who analyzer the country's most twisted criminal minds, anticipating their next moves before they strike again.
Special Agent Jason Gideon (Mandy Patinkin) is the FBI's top behavioural analyst and he joins the Behavioural Analysis Unit lead by Special Agent Aaron Hotchner (Thomas Gibson), a family man who is able to gain people's trust and unlock their secrets. Also on the team are Elle Greenaway (Lola Glaudini), an agent with a background in sexual offenses; Special Agent Derek Morgan (Shemar Moore), an expert on obsessive crimes; Special Agent Dr. Spencer Reid (Matthew Gray Gubler), a classically misunderstood genius whose social IQ is as low as his intellectual IQ is high; Jennifer "JJ" Jareau (AJ Cook), a confident young agent who acts as the unit liaison for the team, and Penelope Garcia (Kirsten Vangsness), a computer wizard who helps research the cases.
Each member brings his or her own area of expertise to the table as they pinpoint predators' motivations and identify their emotional triggers in the attempt to stop them.
The Cast
Shemar Moore as Derek Morgan
Matthew Gary Gubler as Dr Spencer Reid
Thomas Gibson as Aaron 'Hotch' Hotchener
AJ Cook as Jennifer 'JJ' Jareau
Kirsten Vangsness as Penelope Garcia
Joe Mantegna as David Rossi
Mandy Patinkin as Jason Gideon
Favourite Quotes
"It has been said that time heals all wounds. I do not agree. The wounds remain. In time, the mind, protecting its sanity, covers them with scar tissue, and the pain lessens, but it is never gone."~ Rose Kennedy
---
"In order for the light to shine so brightly, the darkness must be present."
~ Francis Bacon, Sr.
---
"I have loved to the point of madness; That which is called madness, That which to me, is the only sensible way to love." ~ Francoise Sagan
---
"Superman is, after all, an alien life form. He's simply the acceptable face of invading realities." ~ Clive Barker
---
"Fairy tales do not tell children that dragons exist. Children already know that. Fairy tales tell children that dragons can be killed." ~ G.K. Chesterton
---
"Remember that all through history, there have been tyrants and murderers, and for a time, they seem invincible. But in the end, they always fall. Always." ~ Mahatma Gandhi