Ill Manors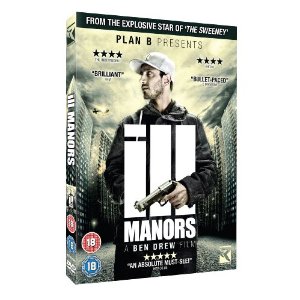 My little Empire Review
Ill Manors is a great directorial debut form plan b, Ben Drew. This is one of the best British movies that i have seen in years. It is in the same vain as kidulthood and 4321. There is some great acting and great music all the way through from plan b himself. I think it is a though movie to watch but well worth a look at. Should win baftas and lots of other awards.
Amazon Review
He may be better known in some quarters as hip-hop musician Plan B, but Ben Drew opened up a fresh career for himself as a movie director with his confident debut, Ill Manors. Drew also wrote the script for this crime drama, which follows the lives of eight characters across seven days in a violence-infested London. That's a lot to balance for an established director, which makes Drew's achievement with Ill Manors all the more impressive. He juggles intertwining stories with real confidence, and finds interesting angles on themes that have been explored many times before in cinema. It's not an easy film to watch at times, mainly because of its refusal to flinch, but it is a very impressive one.
The disc is bolstered by the inclusion of two further short films, as well as a piece looking at the making of the movie. A series of deleted scenes are included as well. It's a good mix of material here, and there's a lot to explore.
But it's the film that lingers in the mind long after the credits have rolled. Without giving anything away, Ill Manors has its ups and downs, but its confident, impressive and engrossing at its very best. A strong debut from a real talent. –Jon Foster
Ill Manors Trailor