The Wire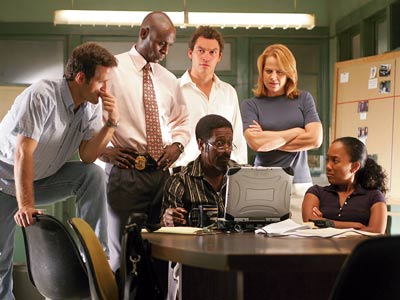 About The Show
The Wire is one of those programme's where the increasing number of people who seem to passionately recommend it are simply not wrong. For buried underneath a mountain of praise, and talk of it being one of the finest television shows of all time, is a staggering piece of work, one that slowly but surely takes a look at the many facets of the drugs trade, centred in the city of Baltimore.
Series by series, we spend time with the cops, the dealers, the media, local politicians, the education system and more, as The Wire gives each careful treatment, and a three-dimensional portrayal. It also paints a picture of a city in real trouble, with Baltimore one of The Wire's uncredited stars. But where the show really delivers is in the characters it creates and moulds, and the very real troubles and challenges each of them must face. The show's detailed strokes are even more compelling than the broader picture it paints.
Enhanced by a series of non-showy performances in front of the camera, and some immaculate writing behind, The Wire really is that proverbial real deal. It's genuinely unpredictable (characters of all sizes find themselves ruthlessly bumped off when you least expect them to), fearless in its tackling of certain subjects, and is that very masterpiece that an increasing army of champions of The Wire suggest it is. The five series contained here are genuinely American television at its very finest, right through to the final scene. Mesmerising television. –Simon Brew
The Cast
Dominic West as Det. James 'Jimmy' Mcnulty
Wendell Pierce as Det. William 'Bunk' Moreland
Aidan Gillen as Councilman Carcetti
Clarke Peters as Det. Lester Freaman
Michael K Williams as Omar Little
Jamie Hector as Marlo Stanfield
Felicia Pearson as Felicia 'Snoop' Pearson
Andre Royo as Bubbles
Favourite Quotes
Freamon: Ain't none of you ever been in the military? Don't you know how to make a 30-inch quick tie? [Nobody speaks]
Freamon: Draft dodging peace freaks, huh?
---
Omar: I'll do what I can to help y'all. But, the game's out there, and it's play or get played. That simple.
---
 Det. James 'Jimmy' McNulty: I got to ask you. If every time Snot boogie would grab the money and run away, why'd you even let him in the game?
Witness: What?
Det. James ' Jimmy' McNulty: If Snot boogie always stole the money, why'd you let him play?
Witness: You got to, this is America, man.
---
Moreland: I'm just a humble motherfucker with a big-ass dick.
Freamon: You give yourself too much credit.
Moreland: Okay then. I ain't that humble.