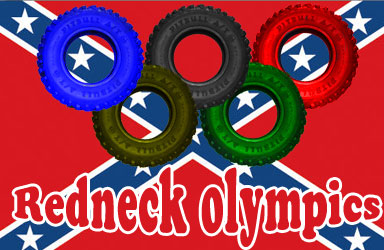 The Redneck Olympics take place in East Dublin, Georgia every year. It's a place where rednecks can be rednecks. It's a place where a guy comes up to you and says "i'd like you to meet my wife and sister and there is one person standing there". There are other Redneck Games throughtout America and Canada but this is the most well known.
The Redneck Olympics, what started off in 1996 as a goofy way to raise money for charity has evolved into a nationwide phenomenon. Back in 1996, Atlanta was going to host the Olympics and a lot of jokes were being made about a bunch of rednecks hosting the Olympics.
As legend tells it, a host of volunteers put together a ridiculous schedule of "Redneck Games" for locals to compete in. They expected a small turnout, some decent weather, and a few laughs. What they got was a little slice of Dixie magic. The first year, they expected 500 people to show up. They got 5,000 instead. Since then, the Redneck Games have expanded into an annual major event. Over the last decade, roughly 95,000 individuals have attended the one-day extravaganza.
 
There's the Hubcap Hurl, the Bobbin' for Pig's Feet Fest, and Redneck Horseshoes — in which toilet seats are the objects thrown. Each individual event has its own legion of fans, roster of popular competitors, and history filled with tradition. People still talk about the 12-year-old boy who played the Southern ode "Dixie" with his underarm and palm back in 2000, everyone recognizes that Melvin Davis is the Babe Ruth of Bobbin' For Pigs' Feet, and it's common knowledge that the Games don't begin until the Ceremonial Grill is lit. Like SEC football or hating Jeff Gordon, the Redneck Games, too, have become a favorite pastime for Southern sports fans. Check out their official website at summerredneckgames.com.
 Check out our pictures below or why not check out out videos below as well.
Redneck Olympics Games Pictures
Redneck Olympics Caterpillar Water Skiing
RED NECK GAMES 2008 Dublin, GA
Redneck games 2011 toilet seat chunk
1st place dublin redneck gemes mudd pitt belly flop
2011 Red Neck Games slide show
2010 Summer Redneck Games, Dublin Georgia
Redneck Pride