The King's Speech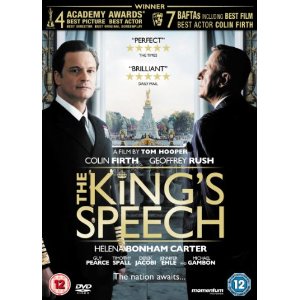 My Little Empire Review
I saw this last night and I thought it was surprisingly good. I was expecting a bit of a period drama look and that kind of stiff upper lip English period movie. Instead It was good to see a more humanised royal family. There was a certain amount of fun poked at them but it was good to see. We have seen a more human side to them recently. I think if this movie was made 15 years ago it would have not gone down well with the English people. The scenes with Jeffery Rush and Colin Firth are great. Great acting all around. It was good to see Jeffery Rush playing an Australian as well. Not sure if it should have got all the award thrown at it but it is well worth the watch and well worth the actor and the director awards. The cursing scene in the movie is very very funny. Look out for it. See below.
Amazon review
The King's Speech is the tale of Elizabeth II's father and his remarkable friendship with maverick speech therapist Lionel Logue. Fascinating, moving and often humourous it charts the personal relationship that developed between England's reluctant King George VI, plagued by a nervous stammer, and his irreverent Australian speech therapist.
As the second son of George V, Prince Albert "Bertie" was not expected to ascend to the throne, but when his brother Edward abdicates to marry American Wallis Simpson, Bertie, as his successor, is crowned King George VI.
George becomes King as radio is taking off as a mass medium and the Second World War looms. Thrust into the international spotlight he must speak not only to the nation but to the people of the British Empire, across the world. His wife, Queen Elizabeth – the future Queen Mother – is tireless in her belief in him. Having tried all the traditional doctors she engages unorthodox outsider, Logue, to help him find a voice that can inspire a nation on the brink of war. Click here to read review.
Winner of the 2011 Academy Awards for Best Picture, Best Actor, Best Director and Best Original Screenplay, and BAFTAs for Best Film, Best British Film, Best Original Screenplay, Best Actor, Best Supporting Actor and Best Original Music. – Click here to see The Bafta's winners list and The Oscar's winning list.
"Colin Firth is terrific: witty, intelligent, understated and affecting"
GQ
"Firth's finest hour"…"Excellently acted, beautifully written, and thrillingly upbeat"
Empire
The King's Speech Trailer
Kings Speech Swearing Scene