Exit Through The Gift Shop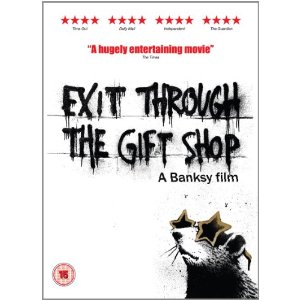 My Little Empire Review
This is a great documentary about Banksy, Street Art and one mans (Thierry Guetta) fascination with videoing everything. He has videoed most things most of his life due to his mother dying which is explained in the movie. Thierry Guetta (a.k.a Mr Brainwash) does go on to become a prolific Street artist after hanging out and filming street artists like Banksy, Zeus, Monsieur Andre and Shepard Fairey. Really this is a film made by Banksy about Thierry Guetta. I think it works really well and it turns out to be a very interesting documentary and well worth the watch.
Why not check out our Featured page on Street Art inspired by the movie, click here. 
For more information on Bansky and to view our Bansky Art Gallery, click here.
Amazon Review
The world's first street art disaster movie. Exit Through The Gift Shop is the groundbreaking film from Banksy the world's most famous graffiti artist; a global phenomenon with a fiercely guarded anonymity. Capturing the exhilarating behind-the-scenes world of graffiti art, an eccentric Frenchman tries to film and befriend Banksy, only for the artist to turn the camera back on its owner with spectacular results. Featuring exclusive footage of Banksy, Shepard Fairey, Invader and many more of the world's most infamous graffiti artists at work, Exit Through The Gift Shop is the hilarious true story of low-level criminality, companionship and incompetence. The story of how one man set out to film the un-filmable. And failed.
Exit Through The Gift Shop Trailer