Source Code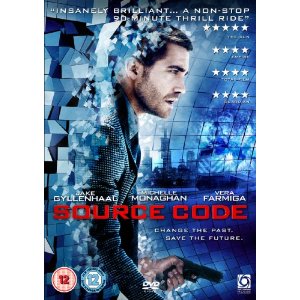 My Little Empire Review
I know I have called it a "bad movie of the week". Its not that bad but you will watch it and think to yourself one of a few thing. 1. I just lost 1 hour and a half of my life that I am not getting back. 2. Yea not bad but could have been so much better because I could see most of the twists comming. 3. There is one twist in the end and there could have been even more twists if the plot was lengthened a bit. 4. (the last reason) That was a short movie because I put this on instead of watching another movie on tv that I did not want to watch and when I turned off the dvd the other movie was not over yeat. Right fair enough maybe I am been harsh. Right here is a good thing about the movie, You get to see some great views of Down town Chicago which include "Cloud Gate" (the bean) and the park. It's is watchable at the very least. You decide.
Amazon Review
Captain Colter Stevens (Jake Gyllenhaal) is on a mission to identify a bomber who destroyed a train just hours earlier and who plans to kill thousands more with a much larger explosion in the heart of Chicago.
A top-secret program, named 'Source Code', allows Colter to exist briefly as another man in the parallel reality of the doomed commuter train. Each time he returns to the train, Colter has just eight minutes to uncover the bomber's identity. The more he learns, the more convinced he becomes that he can prevent the deadly blast from ever happening – unless time runs out first.
Filled with mind-boggling twists and heart-pounding suspense, Source Code is a smart action-thriller directed by Duncan Jones (Moon) also starring Michelle Monaghan (Eagle Eye, Due Date), Vera Farmiga (Up in the Air, The Departed), and Jeffrey Wright (Quantum of Solace, Syriana). – see original article click here
Source Code Trailer