Scream 4 – Bad Movie of The Week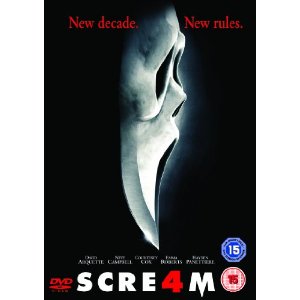 My Little Empire Review
New decade, New rules. While watching this movie I was surprised how much I remembered the first three "Scary Movies" and not Scream 1, 2, 3 and kept on thinking I was going to hear Goastface say what's up. I know they talked about new rules, new decade but I think that there was too much time between scream 4 and the other scream's. A lot of  movies have done something similar and I was just expecting something different. To sum up, not a great addition to the scream trilogies and one they should have left out. To quote Neve Campbell's character in the movie "you forgot the rules of remakes, don't fuck with the original". Well said.
 Amazon Review
Without a refresher viewing, the details of Scream, the 1996 collaboration between horror-meister director Wes Craven and writer Kevin Williamson (who also famously chronicled the ways of wayward teens without so much bloodshed as creator of the TV sensation Dawson's Creek) might be a little hazy. But even through the fog of memory, it's a pretty sure thing that texting, Facebook, live video streams on smart phones, and references to the Saw movie franchise were not major narrative devices. Even so, there is a common thread that yanks this inventive resurrection of the series back to life and ties it quite cleverly to the first, second, and third Scream installments. Summed up, that reach is captured in the word meta, which is pretty much what makes Scream 4 such a hoot as it scampers along on such a high plane of conceptual ingenuity. That several characters use the word in describing the action they're participating in makes the entirety of circular plot points, referential dialogue, and general level of self-reflexive action all the more exuberant. There are a few causes for honest screams in the action, even though the obvious raison d'être for Craven and Williamson's reteaming is to make audiences yelp with delight that trumps genuine fear pretty much every time.
Original cast members Courteney Cox, David Arquette, and Neve Campbell have all returned for the reunion, which also introduces (and largely kills off) a new set of young but very familiar faces recruited for the festivities. The sizable ensemble cast includes Anna Paquin, Kristen Bell, Alison Brie, Hayden Panettiere, Marley Shelton, Rory Culkin, Adam Brody, Mary McDonnell, and Heather Graham, among many others who make up visitors or inhabitants of the imaginary town of Woodsboro, USA, scene of the meta-movie carnage that began 15 years ago. The excuse for this round of action is the return of original surviving victim Sidney Prescott (Campbell), who is making a hometown stop on her book tour. As the heroic survivor of the various incarnations of Ghostface, the knife-wielding killer in Scream's first trilogy, Sidney has become a celebrity and purposefully shrugged off the victim label, but still lives on as a folk hero. Turns out she's especially popular with Woodsboro's high-school population and the many horror film buffs who constantly analyze their every activity in relation to the behaviors of movie characters and the rights and wrongs of what to do when there's a killer on the loose. It therefore surprises no one that Ghostface has returned to haunt Sidney, including retired reporter Gale Weathers (Cox), her now-husband Sheriff Dewey Riley (Arquette), and the assortment of teenage dopes who saturate the entire venture with theatrical gouts of gooey, black blood. The movie-within-a-movie franchise Stab is also a major player in Scream 4. Its sequel count is now up to seven as we discover in the briskly crafted and very funny opening scenes. In fact, Scream 4 is constructed with smarter precision than any of its predecessors and would require a lot of brain power for someone who feels up to the task of trying to figure out who Ghostface is this time and why the killing has started again. But taking the story seriously pretty much defeats the purpose of the absurdly entertaining formal achievement that Craven and Williamson have created. All the stabbing and screaming and intricate (il)logic of horror movie conventions are simply part of the mysterious amusement of a concept that will not die, now delightfully retooled for a new generation. –Ted Fry, click here to read original article.
Scream 4 Trailer