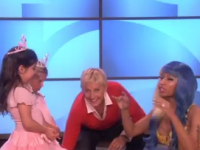 I was watching this on The Ellen Degeneres show this week. Very cute. When Ellen saw 8-year-old Sophia Grace and her 5-year-old cousin Rosie perform, she wanted them on the show right away. And they're here! All the way from England, these two amazing girls performed a Nicki Minaj song, and you just have to see it to believe it.
The Surprise of Their Lives!
After these two adorable girls brought down the house with their performance of Nicki Minaj's "Super Bass," they got a surprise they will never forget! Their idol was there to meet them in person! Watch the magical moment when the girls met Nicki!
The original Video that Ellen talks about
Nicki Minaj – Super Bass By Sophia Grace Brownlee
The original Nicki Manaj Video
Nicki Minaj – Super Bass