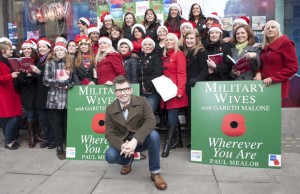 Over the weekend we saw the announcing of the top 10 singles for England(UK) and Ireland. Who would be the Christmas number one. I Ireland it went to form with the x-factor single(Little Mix "Cannonball") winning with a close second from Saw Doctors feat. Petula Clark with "downtown". In the UK the x factor winning song lost our to the Military Wives With Gareth Malone with a song called "Wherever You Are".
The official video for Paul Mealor's Wherever You Are by Military Wives with Gareth Malone.
'Wherever You Are' is a moving love song written by Royal Wedding composer Paul Mealor for the choir to sing at The Royal British Legion's Festival of Remembrance. The music is set to a poem compiled from letters to and from the servicemen and their wives on a 6-month tour of duty in Afghanistan. It is the raw emotion of the song that has touched so many of the British public.
Below is a list of the top 10 of both England(UK) and Ireland.
UK Top 10 Singles
Week ending 25th December 2011 – read full list
| | | |
| --- | --- | --- |
| 1 | Wherever You Are | Military Wives With Gareth Malone |
| 2 | Cannonball | Little Mix |
| 3 | Dominick The Donkey | Lou Monte |
| 4 | Forever Yours | Alex Day |
| 5 | Paradise  | Coldplay |
| 6 | Dance with me tonight | Olly Murs |
| 7 | Good Feeling | Flo Rida |
| 8 | Dedication to my ex | Lloyd |
| 9 | Levels | Avicii |
| 10 | We Found Love | Rihanna |
Irish Top 10 Singles
Week ending 22nd December 2011 – read full list
| | | |
| --- | --- | --- |
| 1 | CANNONBALL | LITTLE MIX |
| 2 | DOWNTOWN | SAW DOCTORS FEAT. PETULA CLARK |
| 3 | WINTER SONG | SARA BAREILLES & INGRID MICHAELSON |
| 4 | PARADISE  | COLDPLAY |
| 5 | DANCE WITH ME TONIGHT | OLLY MURS |
| 6 | WE FOUND LOVE | RIHANNA FEAT. CALVIN HARRIS |
| 7 | WALKING IN THE AIR | RYAN SHERIDAN |
| 8 | FAIRYTALE OF NEW YORK | POGUES FEAT. KIRSTY MACCOLL |
| 9 | WISHING ON A STAR | XFACTOR FINALISTS 2011 |
| 10 | LEGO HOUSE | ED SHEERAN |