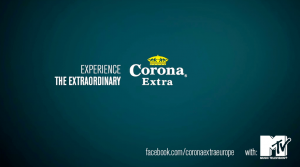 Irish People on stage with their idols thanks to MTV and Corona Extra
If your dream is singing with your favorite singer and feeling the thrill of being on stage, you could do it thanks to Corona Extra and MTV.
A contest in five countries (Ireland, Germany, Switzerland, Denmark and Austria), whose citizens can participate through an application integrated in Corona Facebook page, where online users can explain the "extraordinary experience" that they would like, using 100 characters.
From all the proposed experiences, 10 will go to the final, and one will be a winner: the 10 finalist contestants will win a trip to Ibiza with accommodation included, while the winner will have the opportunity to life a real extraordinary experience that will be filmed and broadcasted on MTV. Surprising a young dj with the gig of his life, giving a taxi driver in Rome is dream cab ride, put an amateur rock band on the main stage of Rock in Rio are just the dreams fulfilled last year.
What about this year? Becoming a star may no longer be just a dream!
Watch the video here: http://youtu.be/rj-Hf-vfxTs
Corona Facebook Page: http://www.facebook.com/coronaextraeurope
Facebook APP: http://apps.facebook.com/the_challenge_europe