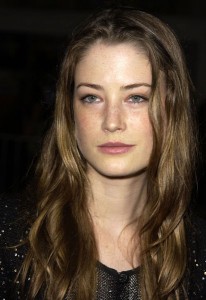 Lucy Gordon found dead in Paris flat. A promising young British actress who had worked alongside the late Heath Ledger and Audrey Tautou and whose latest film was due to be screened at Cannes was yesterday found dead in her Paris flat after apparently committing suicide.
Lucy Gordon, was found suspended from the ceiling just two days before her 29th birthday, by a friend. Her family, who live in Oxford, paid tribute to the model and actress as the "light of our lives".
A police spokesman said an autopsy had been ordered to determine the cause of death.
The actress had appeared in films including the third instalment of SpiderMan, and in the romantic comedy The Russian Dolls, in which she co-starred with Audrey Tautou. Gordon most recently played the British singer and actress Jane Birkin in the upcoming biopic Serge Gainsbourg, which is due for release early next year.
Yesterday, her father, Richard Gordon, said: "It's come as a complete shock to us all. Her career was just taking off… We have always been immensely proud of her and her achievements. We love her so much." Mr Gordon added that his daughter had loved playing her latest role as Birkin: "She found the whole team and cast wonderfully supportive."
She had spent part of her childhood in France and was bilingual. She recently moved to Paris from New York.
Having become a model aged just 14, she made her debut in 2001 in the film Perfume, which follows a group of characters at a New York modelling show. A year later, she starred in the historical drama The Four Feathers, alongside Ledger, who died of a drugs overdose in his New York apartment last year.
Friends suggested that Gordon had been deeply affected by the recent suicide of a friend in Britain. click here to read the original article
Lucy Gordon 1980 – 2009